WPA-Produced Depression- Era Guidebook
Posted On:
A story in today's citizen about an upcoming Monroe County Public Library retrospective of Key West during the Great Depression made me think of this post I made from a few years back after I found an old WPA-sponsored brochure designed to market a down-and-out Key West as a tourist destination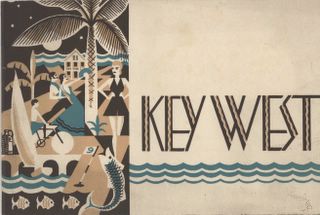 Please note that the story referred to below is a story that appeared in the citizen when I first posted this in 2005
I know that some of my recent posts on first glance don't appear to have much to do with the Parrot. This post appears to be another one of those. There was a story in this Sunday's Key West Citizen about an early Key West Guide Book, published in the 1930's, with the purpose of improving the Depession-era economy of Key West by attracting tourists. The guide book that was named in today's Citizen story was titled "Key West in Transition: a Guidebook for Visitors". It was published in 1934 by a Federal redevelopment agency: The Key West Administration.
Where the Parrot figures in here is that I remembered seeing a similar guidebook in the Parrot archives. I found it, and although it appears to be a different book it too was published by the Key West Administration and in the same era. In addition to the text listing area attractions that would attract tourists it contains a handsome watercolor on nearly every page.. I'll post a sampling of those paintings here. I supposed the artists were hired by the WPA as were the writers. If nothing else it is an interesting window into the Key West of the '30's. I wonder what became of those artists that came here on the WPA dole in those depression years.