Ron Hatfield and The Big Coppit Cowboys
Posted On: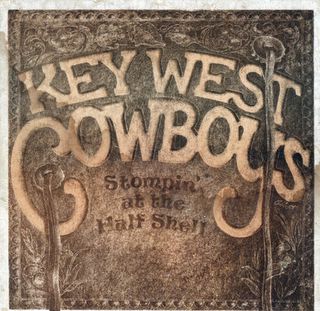 Percolating up from our archives. This would be the jacket of the 45 "Stompin' at The Half Shell" recorded by Ron Hatfield and The Big Coppit Cowboys, recorded in 1978 I believe.
They were a very popular band in the late 70's when the Key West Bight in the winter seemed more like Freeport, Texas or Gulfport, Mississippi … a shrimping village with a drinking problem so obvious to even the casual observer that it really didn't need to be spelled out on a t-shirt.
On Caroline Street it was red-necks, white boots and blue ribbon beer and the hot spots by the docks were The Half Shell, The Big Fleet, The Mascot and the Midget Bar. On Duval Street, shrimpers that stumbled too far from their boats could be found at Bud and Dorothy's Old Anchor Inn…Anyway, his pickin and whistlin' and Elaine Culpepper's singing struck a nerve and they had a good run of it, for years consistently drawing crowds in many venues even away from the docks, playing shit-kicking tunes by the likes of Rodney Crowell and Jerry Jeff, who if I'm not mistaken, could often be found in attendance.