Lauren:First Place Old Timey Fiddle
Posted On: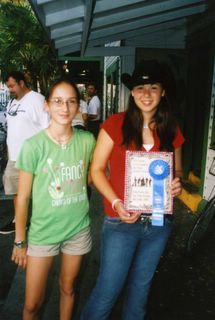 Pictured here is Lauren, a student of Chuck Anton, holding her First Place in the Old Timey Division plaque. I believe that's her dad in back left of the photo.
For this she deserves an enormous amount of credit.
It was the luck of the draw that earned her a spot in the lineup right after show-stopper Gary Blodgett. Gary's two songs, The Devil Went Down to Georgia and Orange Blossom Special were met with applause that was both thunderous and sustained. When I saw her waiting in the wings to go on my heart went out to her.
Brian, the excellent fiddler from The Weary Boys was watching next to me and I asked him if he had signed up as a contestant. He said no he hadn't, but that he had thought about it. Thinking I could shove him into the breech instead of her I suggested that it wasn't too late to sign up and I could even see to it that he went up there next. This would have been the fiddler's equivalent of jumping on a live hand grenade so who could blame him when he looked at me and said, well no, he wasn't following that guy either. Long story short, with great courage and poise she got up and nailed her song and went on to win First in her division and make her parents, her teacher, her friend and of course herself very proud. I was glad I got to see it and I still don't blame Brian a bit.